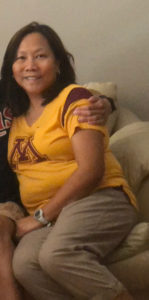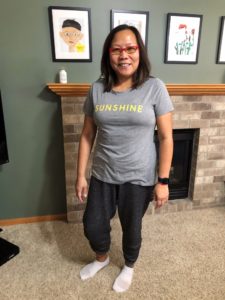 What did life look like before you focused consistently on nutrition and fitness?
I was 30 lbs overweight and always feeling tired at the end of most days. I tried to "exercise" some days by walking during lunch time at work, but the demands of my full time job was my excuse to justify why I can't take care of myself. I did not really pay attention to what I eat and used food to comfort me when I am stressed.
What made you decide to make a change?
September 2019, at my 6 month diabetic check my doctor informed me that my A1C was up to 8.5. She was very disappointed with my results because it was trending upward in the last year but this time the increase was rather drastic. I came home sad and thought to myself that I can do something about this because I knew I have been really bad at taking care of myself. I knew Nickie and Marc in the last 4 years since our boys both swim at the RHS Boys team. A couple of years ago, we chatted about The Warehouse and they both encouraged us to give them a try. But my husband and I candidly declined because we said it is hard to commit to going to the gym. I remember Marc telling us, "Well at least you both are honest". What I liked about them was they were very respectful of our choices. So when I was home that September day and was contemplating about what I can do to take care of myself, I found myself looking up The Warehouse in Facebook. I messaged Nickie and she responded immediately. I told her where I was at with my health. She was empathic and very encouraging. I remember her telling me "Irene, we will wow your doctor in your 3 month check-in". I told her I wanted to reach out to her to help guide me to my health goals since I know her and knew that she will never judge me. I told her my fears about embarking on this journey and she was all ears and offered a lot of encouragement. Her enthusiasm was contagious that I felt like I am ready to go.
How did focusing on health and fitness help you during a difficult time?
Today, I came from my 3 month diabetic checkin and like what Nickie "promised" me when we first chatted in September, my doctor is WOWED and extremely happy for me. My A1C is at 7.2 much lower from my last year's number of 7.8. I have to admit there were days when I felt like I was dragging myself to go to classes at The Warehouse. But every time after class I find myself saying, "I AM GLAD I CAME". I feel better even when I end up getting leg cramps days after an intense workout. I appreciate how Nickie quickly responds to my messages when I need her advise when my pain seems to hold me back from going to classes. I appreciate her encouragement, offering advise and just simply listening to me. I love that I feel like my body is getting stronger and lighter. I also love that I don't feel judged and all of the classes that I have attended so far has offered adjustments so that I am able to workout at my level of fitness. I am looking forward to staying here, trying out the other classes that looks intimidating to me and achieving my ultimate goal of living a happy and healthy life. Hats off to everyone at The Warehouse, most specially to Nickie and Marc.