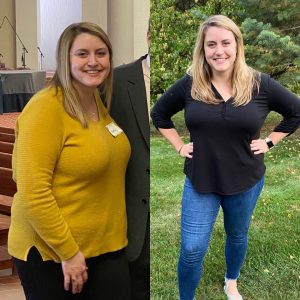 I have always been a team player. For almost half of my life, I was a competitive swimmer, and I got used to having a 2 hour workout just built into my schedule.  I loved being a part of a team!  My teammates motivated me every day.

After graduating college, my routine became inconsistent, but my appetite stayed the same. I struggled with eating healthy, watching my portions, and was not consistent with my fitness. I had spurts where I would keep up with a routine, but eventually would get derailed. This went on for about 7 years.

Fast forward to 2020.  It has been quite the year for a variety of reasons, but for me, some major things stood out. Looming over me was frustration for not taking better care of myself, BUT, I  had two big milestones this year that changed my mindset.

1. In April, I turned 30. I'm not usually someone who freaks out over age, but this felt different. I was tired of not sleeping well, feeling sluggish, and having low self-confidence.

2. I was also nearing the milestone of living 10 years cancer free. Through my cancer diagnosis, I realized how easy it is to take our health for granted. I'm guilty of doing that far too often. Reaching the 10 year mark was a big deal for me and it was a good reminder for me to start valuing myself and my health.

With these milestones in mind, The Warehouse's Power of 50 couldn't have come at a better time. I knew this was my opportunity to turn things around. I felt more motivated than I had in a long time. I was lucky to get signed up for in-person classes (my favorite), and being back at The Warehouse just felt right.

The Power of 50 experience took me back to my swimming days of being on a team. I thrive on the energy from the trainers and the class participants, YOU ARE MY TEAMMATES.

I achieved my goal of 50 workouts, and have kept up with my new routine!


Share the following below:
1. What is your favorite Warehouse workout song? I like working out to anything that I can sing along to!

2. What is your favorite workout class?
I love Combat HIIT classes. There's just something so satisfying about hitting that bag!
3. What is your favorite quote?

"Never easy; always worth it!" I've had to say this to myself on several drives to The Warehouse at 5:30 AM! It really is ALWAYS worth it!