1.  WHAT DID LIFE LOOK LIKE BEFORE YOU FOCUSED ON CONSISTENCY ON NUTRITION AND FITNESS? 
I have always been very active and athletic. My parents enrolled me in gymnastics when I was in preschool, and I did it competitively until junior high. Initially I loved it and was good at it, but eventually the pressure, commitment, and fear of the stunts that I was performing overwhelmed me. I grew to hate gymnastics, but I had invested so much time and energy into it that I didn't want to just walk away. After years of dreading practice and meets, my parents helped me realize that it was ok if I did not want to do it anymore and I finally allowed myself to quit.
After stopping gymnastics, I decided to explore all the different sports that I had never been able to participate in due to the massive time commitment required by gymnastics. I tried soccer, softball, volleyball, basketball and track. Eventually in high school I realized that my strength was in running so I fully committed myself to cross country and track. I went all in again just like I did with gymnastics and I performed really well; had some great accomplishments; made amazing lifelong friends and truly loved the camaraderie on the team. But I hated running. And I hated competing. But once again, I did not want to be a quitter, so I stuck with it through high school.
After high school I continued running on my own hoping that I might enjoy it if I did it just for fun without the element of competition. Over the next 20+ years, I did a lot of laid-back road races, trail runs and even a couple of marathons, and although I liked how I felt once I was done and appreciated the mental release that it provided, I still hated the actual act of running. I probably should have looked for alternative forms of exercise but running was all I knew, and I didn't think that anything else would be as good of a workout.
Then about five years ago I saw a kickboxing gym and on somewhat of a whim decided to try it out. I absolutely LOVED it! It was a great full body workout; it was therapeutic getting to punch stuff; and most importantly, it was so much fun! I didn't hate it! While at the kickboxing gym, I heard a lot of rumblings from other members about a place called the Warehouse in Rosemount and I was very intrigued. I ended up joining some friends for a Pound class at the Warehouse and then I was offered a Birthday Golden Ticket (free month membership) and I gladly accepted it. In that month I slowly started drifting away from my kickboxing gym as I attended more and more classes at the Warehouse. Turns out I liked the Warehouse even more than the kickboxing gym so at that point I officially joined and have never looked back!
2. What made you decide to make a change? 
My experience at the Warehouse has been amazing. For the first time in my life exercising is actually fun! The wide variety of classes help to keep it interesting while providing me with a well-rounded, full body workout. When I was running, I was basically just doing cardio and now for the first time since high school, I do strength training as well. I also love the community here and have made some amazing friends! From the very beginning everybody was so welcoming and inclusive, which I greatly appreciate as an introvert. The energy here is so positive and I have gone from dreading workouts to actually looking forward to them. They tend to be one of the highlights of my day now!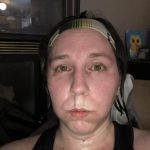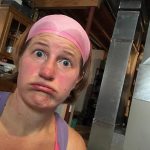 "Kristen is such an awesome friend! I am so glad I met her at the Warehouse! These are post-workout selfies we sent each other during the the Covid lockdown after Warehouse workouts on Zoom"
3. What has changed (attitude, energy, weight, habits, priorities, race times, blood work, confidence, etc.?)
The biggest thing by far that has changed for me since joining the Warehouse is my attitude towards exercise. I used to think it was something that I had to do to be healthy, but not something that was meant to be enjoyable. My main purpose for exercising was honestly to try and maintain a healthy weight. Now, I absolutely love working out and my main purpose has shifted to being more about my mental health. I have fairly severe anxiety and going to the gym is therapeutic on so many different levels. The natural endorphins that are released, the wonderful community of people, and spending time with the great friends that I have made do wonders for my anxiety. It is honestly one of the best tools that I have to maintain my mental health and keep my anxiety in check.
Share the following below:
1. WHAT IS YOUR FAVORITE WAREHOUSE WORKOUT SONG?
Untouched by the Veronicas and Into the Wild by LP (both Pound songs)
2. WHAT IS YOUR FAVORITE WAREHOUSE WORKOUT CLASS?
I honestly really love a lot of the classes including Bootcamp, Cardio Strength and Boxing Fusion but I would have to say my absolute favorite is Pound!
3. WHAT IS YOUR FAVORITE QUOTE?
 I have two favorite quotes…1)Never get so busy making a living that you forget to make a life and 2) Life isn't about waiting for the storm to pass, it is about learning to dance in the rain.