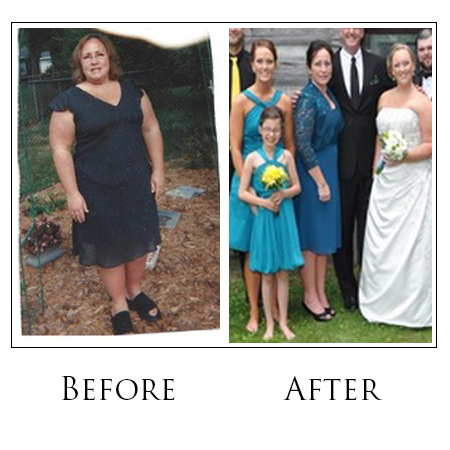 Mind and Body-One Day at a Time
by Sheila Guggenberger

My name is Sheila and this is the condensed version of my story. After spending most of my life at some degree of overweight/obese/morbidly obese in 2008 I made a commitment to myself and family that something had to change.  I had hypertension 5 medicines couldn't control, atrial fibrillation, GERD and was tired all the time.  Three of 4 of my kids had graduated high school and with one left at home so it was now or never. 

With a combination of Weight Watchers, DASH diet, portion control and A LOT of walking by April 2009 I had lost 90 lbs. About this time I received the Community Education catalog and decided I needed more of a challenge and maybe tighten up the jiggly mess that was left after losing so much weight. Boot Camp and Cardio kick boxing seemed to be the ticket. The 1st two weeks I was so sore I could hardly walk but within a month I surprised myself by being able to do wall sits, pushups and even hanging in for Tabata's. Where were these muscles coming from? It was a great release. Each work out was a personal challenge of doing one more, going longer and always getting to the count of one. I also started meeting people who wanted to work out. I still see a lot of familiar faces!

As my physical self was becoming the best it had ever been my emotional self was in a constant struggle. My mind and body were in very different places. January 5, 2013 I faced my reality of addiction and started on the road to sobriety. I had justified my addiction in so many ways but finally as I took a hard look at who I wanted to be- which isn't always pretty, I knew something had to give.

Thank God for the time I spent working out because without question if I hadn't been in such good physical shape there was NO WAY I could have faced the challenge of alcoholism and sobriety. Working out was the release I needed on bad days-whether at the Warehouse or at home.

I celebrated a year to the day of sobriety at The Warehouse getting assessments for the 21 day challenge which I did with my husband. At 52, I am a work in progress and live one day at time. My plan is to continue to be active, eat healthy including Shakeology-even though I am late to the party with this. My family has been my biggest supporters and if they are available I will drag them to the Warehouse. I may not be at a goal weight and I still jiggle a bit but I can't think of where I would be hadn't it been for my family and Nickie and the Warehouse classes as part of my recovery.