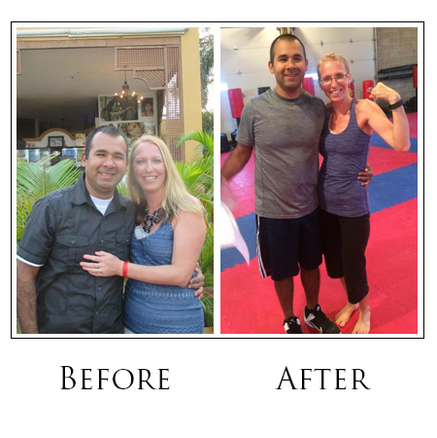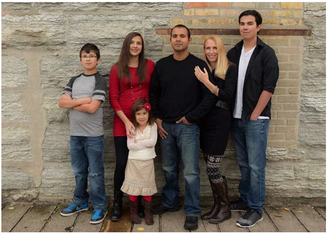 1. What did life look like before you focused consistently on nutrition and fitness?

Heather: I grew up in a healthy household. My mom always made sure we ate healthy balanced meals together as a family and we rarely went out to eat. In high school my, I developed an eating disorder. It wasn't just about eating though; it was about having control of something because other aspects of my life were out of control. I had a warped sense of nutrition. I would only eat one rice cake a day and some peach gummy rings maybe twice a week and my weight dropped from 110 pounds to 80 pounds within a few months. Eventually, my parents got me the help I needed to get better but my body was so damaged that it was extremely painful to eat again- many nights I was in tears, just trying to digest my food. A psychologist helped me to change my way of thinking about food- those sessions were intense but were beginning to help me.

Lucio: I grew up in Mexico and nutrition was never a part of my life growing up. We ate what we got which was beans, tortillas and rice on a daily basis. I was not educated on what was healthy and what was not.

Heather: In April of 1996 (a couple of months into my treatment plan), I went on a life changing trip to Mazatlan, Mexico. I never would have guessed that I would meet my future husband on that trip! Lucio came to the US in August of 1996 and we were married in January of 1997. We both knew that we were meant for each other. I continued the treatment plan for my eating disorder, got better, gained weight and felt great. We were a busy family (3 kids!) but I put my nutrition and fitness on hold for some time. I did eat healthy but would mostly snack (for comfort)- late at night in my bed, tortilla chips and salsa. I would end up eating almost an entire bag of chips. As a result, I gained some weight and was unhappy but I put on a happy face and just went along with my life.

Lucio: I came to the US and was surrounded by all this good food- I ate what I wanted, when I wanted, and wouldn't exercise unless I had to for a college class. I was ignorant to nutrition and thought I could eat what I wanted without it affecting me. I have always worked night shift and so would sleep during the day and then just go to work when I got up. My excuse was that I did not have time to exercise. I weighed an unhealthily thin 120 pounds when I came to the US, but within 6 years I was up to 170 pounds. I still did not see that I had a problem. Even when I was told by Registered nurses that I needed to eat better and start exercising or that I was at risk for heart disease, heart attacks, and diabetes, I would still just roll my eyes and think "whatever".

Heather: In 2008, we decided to try for one more child. I suffered 4 miscarriages and wondered why this was happening to us, why this was so hard. I focused on getting healthy, but when we tried again, heartbreak struck another time. We found out that I have PCOS (Polycystic Ovarian Syndrome) and that our first 3 kids are miracles. So we started a fertility treatment plan and got pregnant on our first round. The pregnancy was tough, and fear of a miscarriage was looming, but Estela was born healthy one month early. We feel so blessed that our family is now complete. Through the pregnancy I tried to stay healthy, but was not allowed to exercise and I let my nutrition slip. Then Lucio had some blood work done at work and the results were not good. After researching cholesterol/glucose levels, we decided our family would transition to a plant based diet (vegan).

2. What made you decide to make a change?

Heather: Since 2012 we have stuck with the plant based diet but I was back to snacking on a lot of carb filled plant based foods- I believed I could eat whatever I wanted as long as I worked out.

Lucio: When I got my test results back, I was 185 pounds and my cholesterol levels and glucose levels were very high. Heather looked at the numbers and asked- "Do you want to have a heart attack?". As a family, we switched to a plant based diet. Within the first month I lost 10 pounds but I wasn't exercising. I thought- "If it's plant based, it's healthy". NOT true. I was eating lots of tortillas, beans, unhealthy carbs, and gained the weight back pretty quickly. A year later, my blood work was within normal range but still high.

Heather: In December of 2014, I was working out at home using the PiYo program, but wasn't consistent. I had even tried The Warehouse (but still used the excuse that I was too busy). I was drinking Shakeology 5 days a week at the time and feeling pretty good. However, on Christmas Day, I ended up in the emergency room with a terrible cough and could not breathe. The cough lingered for several weeks. In February 2015, my good friend Amy Leuer asked me to join her for the Drop Ten with a Friend challenge. Even though I made excuses in my head, I decided to go for it. My first workout during the challenge was nerve wracking but exciting- the energy in the studio was vibrant and alive! The high fives and the motivation was out of this world. Nothing I expected at all from going to a "gym". I came home from that first workout and told Lucio and the kids that it was great and I couldn't wait to go back. I lost a few pounds that month but the number on the scale is not what defines me. In March I started the 21 Day Fix. I loved the container system and how it worked. Anything that fits in the containers I can eat. I was worried that I would not have enough to eat, but it was A LOT of food. I felt great following the program, I had energy, my skin was great, my body felt great, and I loved all the healthy food choices I was making during the 21 days. I got lean and toned!

Lucio: When Heather bought the 21 day fix and some Shakeology, my thoughts about eating changed. Fix helped me see that my portions were so off- especially the carbs. During my first round of Fix, I lost 15 pounds (without exercise). Being able to have healthy shakes for breakfast was a game changer. I use to eat bowls of cereal for breakfast and would be hungry within an hour or so. Heather had joined The Warehouse and kept telling me come try it so I finally gave in and went to a Bootcamp with Nickie in April 2015. I remember walking in and thinking- "This will be easy, I got this". Well, it kicked my butt! I felt great after- I really enjoyed the workout and the people. The high fives and motivation from everyone is great. I've been a member ever since (and now our two eldest children are members too). If it wasn't for Heather, I know I wouldn't be where I am today. She is the motivator for me to eat healthy, work out and set an example for our 4 children.

Heather: Now I just follow the 80/20 rule. 80% clean eating and healthy choices and 20% can be treats. Some days I fall off the 80/20, but most of the time I am making healthy food choices for myself and feeling great. I have learned this through my journey to become the healthy and fit. The look on the outside is not what defines a person. Skinny does not always mean healthy. I was extremely skinny during high school but I was NOT healthy. I was sick. I want to help others achieve their goals; not just losing weight, but getting healthy mentally as well. If we learn the healthy way of eating and incorporating fitness into our lives, we live better lives. I know this first hand. We love The Warehouse and our fitness family. I tell all those I meet to come and try it with me. It is not your typical "gym". Having the trainers right next to you helping you do that one more rep, pushing you, and encouraging you is life changing. There is nothing better than being with people who are all trying their best to become fit and healthy. I always leave feeling great, happy and accomplished. I come home and I am ready to be that happy and healthy wife, and mom to my four kids!

3. What has changed (race times, blood work, attitude, etc.)?

Heather:

 I changed my home preschool to a vegetarian menu plan and I love to teach them about health and nutrition. I also incorporate physical activity into their daily routine and they love it. What is rewarding is when I hear stories from the parents whose children come home and tell them what they have learned at my house- whether it be a new food today they tried or the stretches they did. I LOVE my daycare kids and hope that when they grow up they will continue to live healthy lives because of what they learned at my house. I will continue to move forward in my journey to stay healthy, and to help others and inspire those that want to get healthy and stay healthy.

Lucio: My blood work has changed drastically My cholesterol levels used to be 257 they are now 133. All my other blood levels are normal as well. My BMI has gone from 31.8 to 24.7, my triglycerides were 187, now 67, and I'm down 33 pounds. My work has a program where they check health and fitness every year and my scores have gone from a 76 to a 92, which is very good. I now get more money off my health premiums. This year I got a 90% score on the Cooper test when in other years I would score in the 60% or lower. I will be on the Wall Fame at work for this and will also receive compensation for doing well on the test. My attitude has changed and now I am conscious of what I put into my body- I know that whatever I put in will have either a negative or positive effect. I don't ever want to go back to that 180 pound unhealthy guy that I was.