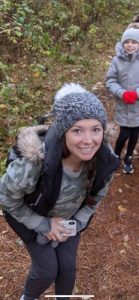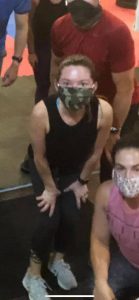 | | |
| --- | --- |
| 1. What did life look like before you focused consistently on nutrition and fitness? | I was busy working and being a mom and honestly probably getting sucked into too much screen time. If I wasn't at work all of my energy went into my kids. Helping with homework, cooking, cleaning, going to activities and I was always exhausted! If I had downtime I was sitting on the couch and zoning out on the TV or scrolling social media. |
2. What made you decide to make a change?

I weighed more than I ever had (Im naturally petite) and I was at my all time high level of exhaustion. I went to the New Years Day workout at the warehouse and I had a blast. I realized at that moment that working out could actually be fun and I decided to make it a priority to incorporate working out into my daily routine and I haven't looked back! I am over a year strong of making sure that I get in some sort of exercise daily. Now instead of deciding if I am going to workout, I decide what kind of workout I am going to do. I also have the MOST AMAZING group of friends that motivate me to join them at classes and to push myself a little bit harder! I love working out alongside them and celebrating the end of workouts with them!
3. What has changed (attitude, energy, weight, habits, priorities, race times, blood work, confidence,
etc.)?

I have had some weight loss just by incorporating workouts into my routine but even more so my energy level and attitude have changed. I was born with some spine deformities and yoga along with strengthening has greatly increased my mobility and decreased some of the pain I experience. I have always struggled with anxiety and being able to fall sleep. Working out has also pretty much squashed being awake for hours trying to get some sleep in before morning and its given me whole lot more confidence in myself. I also like to try to get others to join me on a fitness journey. Nothing makes me more happy then when I can motivate someone into getting a workout in for the day!
Share the following below:1. What is your favorite Warehouse workout song?
2. What is your favorite workout class?
3. What is your favorite quote?

My most favorite Warehouse workout song is No Diggity and you might as well throw in the bands with it. The classes that I enjoy the most are Cardio Strength, Combat HIIT when we can be in person with the bags, Outdoor Bootcamp was a blast this summer and, of course, Pounding it out with Bonnie and the rest of the Pound Posse! A quote that runs through my head when I am about to give up is "Yes I can!" and it almost always makes me decide that I can indeed do this for at least 20 more seconds 🙂