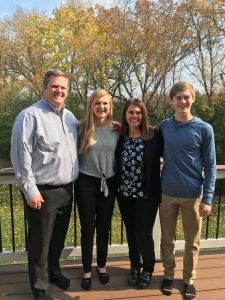 1. What did life look like before you focused consistently on nutrition and fitness?

When I was younger, I was active and exercised regularly.
But after having kids, I fell away from regular exercise. Life got busy. I would get back to some exercise routine for short periods of time but life always seemed to get in the way. As the kids got older and busier, I found less and less time for myself and especially for exercise
2. What made you decide to make a change?
I have struggled with some injuries over the years and my pain was getting worse as I got older. As a physical therapist I knew that my lack of exercise was contributing to the pain increasing. Prior to coming to the Warehouse, I belonged to a gym, but was going very inconsistently. I knew I needed to get consistent with exercise. When I was offered a golden ticket to try the Warehouse I decided to give it a try. It was easier to get to class when I was coming with friends that helped to keep me consistent.
3. What has changed (attitude, energy, weight, habits, priorities, race times, blood work, confidence,
etc.)?
Since I have been working out regularly again, I have gained strength, lost weight, I have more energy and the pain from my injuries is much better. I love the energy of the Warehouse. The trainers are great and I have been especially impressed with how seamless the workouts were able to transition to Zoom when the pandemic hit. I am looking forward to getting everyone back in the gym again.
Share the following below:

1. What is your favorite Warehouse workout song?
2. What is your favorite workout class?
3. What is your favorite quote?

1. Favorite Workout Song: There are so many good ones, but I would have to say either Bust a Move by Young MC or It Takes Two by Rob Base and DJ EZ Rock.

2. My favorite class is Combat HIIT – I love to hit the bags!

3. Favorite Quote: "People will forget what you said, people will forget what you did, but people will never forget how you made them feel."