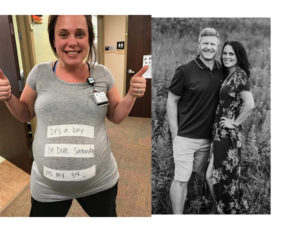 What did life look like before you focused consistently on nutrition and fitness?
My life prior to focusing on my nutrition and fitness was pretty typical for most busy families. Whatever we could conjure up for dinner the quickest was what drove our choices, what was healthy for us wasn't necessarily the priority. Life always seemed busy, so carving out time to exercise consistently just seemed like something that was never going to happen. We would of course go to the park, long family walks, get out and be active. But, never did I ever think of taking time out of my day, and stepping away from all life's responsibilities and spend 45-60 min simply focusing on me and my health. That seemed selfish to me at a time when I felt we had so many other important things going on in life. We definitely put our kids first, our needs took a backseat to our children's. I look back now and think of how I feel I could've handled all that other "life stuff" so much better, had I taken that time to be healthier and focus just a little on myself.
What made you decide to make a change?
I actually feel like I made the mental decision to make the big shift even prior to making the actual changes of working out and eating healthier. While I was pregnant with our third baby (Owen who is now 16 months) I decided once this pregnancy is over I'm 100% in it to win it! No more excuses, I was ready to take back control and invest in myself again, I wanted to feel strong and confident. The before picture was taken exactly one week prior to Owen's birth. I knew that it was really important for me to take back some control of my health and lifestyle choices. I had gained quite a bit of weight with all 3 of my pregnancies (Jackson – 9 yo and Isabelle- 4 yo). And, although I would lose the baby weight after each pregnancy prior to the next, I felt this time around was different. It wasn't just about dropping the baby weight again, it was about getting stronger and making better decisions about what I was putting in my body – setting a better example for my now impressionable kids. I work as a nurse so I know better and I often see first hand how poor choices can affect your health in some of the worst ways possible. But sometimes knowing what you need and actually giving yourself what you need are two completely different things. So, after Owen was born I kicked it into high gear and started working out after getting cleared at 7 weeks postpartum and began eating healthier immediately after he was born.
What has changed (race times, blood work, attitude, etc)?
So, now working out has become a staple for my daily routine. I can often be found running or at The Warehouse taking classes anywhere from 4-6x a week. I eat a very clean diet about 80% of the time – I found without allowing for a little indulgence you will never want to stick with anything. Plus, we only get summer weather here for a few short months and sometimes nothing is better than a beer on the patio in the sun! One of the biggest changes for our family is that I personally have cut meat out of my diet completely, except for fish. I make choices that I know are better for me and my body. I started to change my view on eating, I began looking much more closer at what I was fueling my body with. 
From the day I went into labor with Owen until now I am down about 80# give or take. As much as that number makes me happy, cause believe me it does, I am more excited about how much stronger I am. My endurance and strength is probably the best it has been in my entire life and with these three crazy kids I need it! My favorite moment throughout this journey of getting stronger and healthier, was a moment I had with my kids. My husband is a tall and strong guy, and he usually carries both our older kids Jack and Izzy up to bed together at night. One night when he wasn't home for bed time I thought, you know what, I can do it! I told them Mom was going to try to carry them both up together just like Dad. They smiled, I grabbed them both and started the trek upstairs to bed. Halfway up, my daughter looked at me with a big smile and said, "wow Mom, you are really strong!" My heart melted, in that moment I knew the commitment to what I was doing was 100% worth it, not just for me but for my family as a whole. 
The Warehouse has been such a HUGE part of this transition into a healthy lifestyle for me, it has truly been one of the driving forces. Going to classes has made me be consistent and kept me accountable for my own choices. Lisa and her yoga classes have been a such blessing in my life. I was always scared of yoga and it is now one of my favorite classes! All the trainers are so encouraging and motivating and the environment that is provided at The Warehouse is always one of acceptance and encouragement.