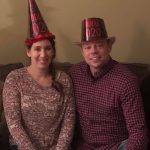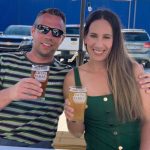 Before the Pandemic, and Quarantine, my health goals were solely focused on weight loss. I actually challenged myself to lose 8 pounds in 8 weeks.  I was highly motivated by an upcoming trip to Hawaii. I decided to do something about my weight because I simply felt bloated, and unhealthy.  I knew I needed to make a change to my daily habits, and I knew my daily habits were contributing to my bloated feeling. I know focusing on weight is taboo for some, but this is my honest story and where my head was at, at that time.

About 2 weeks after returning from Hawaii, the whole world went into Quarantine because of COVID-19. My entire office had to abruptly start working remotely 100% of the time. I was not someone that loved to work from home and adding the factor of having to help my kids "Distant Learn" was so stressful.

 I figured I'd turn the situation into a positive; lemons into lemonade.  I realized that I had more time to take virtual classes, and cook healthy meals, so I just started doing it.  I am so happy we are now able to attend limited in person classes though! I have also never been a fan of working out inside my home. I do not have a dedicated work out space, and something about dripping wet with sweat in my house grosses me out!  So, weather permitting, I will always take my Zoom classes outside. I am not looking forward to the cold weather that is already here!

With all of our newfound free time, my husband and I take evening walks most days. That is the only change my husband has made since Spring and of course he has melted off 15lbs and gets all of the "Have you lost weight?" comments. Go figure!

In June 2020, I made the 20 workouts in a month list at The Warehouse for the first time ever. Then, again in July. My personal goal is to make the 20 list every month until I no longer work remotely. (at this point, my company has us working remote until at least Jan 2021).

My motivation started out with weight loss, but what kept me going, is how great I feel!  I am not on some drastic deprivation diet, and I am not punishing my body with workouts. I have found a groove with hitting 20 workouts each month, cooking from home, and getting the family out for walks. All of this helps me feel healthy, energetic, and happy through this time of uncertainty.  Oh, and  I still enjoy my IPAs! 
Share the following below:
1. What is your favorite Warehouse workout song? My favorite songs to workout are Hip Hop or upbeat Pop songs.
2. What is your favorite workout class? Favorite class is a tough one. I really like Combat HIIT and any class that combines lifting weights with cardio.