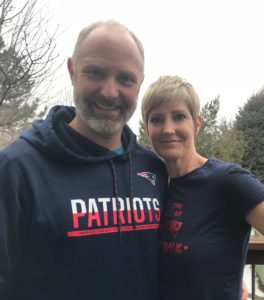 1. What did life look like before you focused consistently on nutrition and fitness?

We have both always had fitness as part of our lives, either at a gym, running or biking. But it was something we did not fit in as a part of our daily schedule. Often it would be put on the bottom of our list. With 3 teenagers our days start early and end late requiring a large supply of energy that we just didn't have. We needed a program that offered consistency and encouragment.

2. What made you decide to make a change?
We have known several of the trainers from outside The Warehouse and their energy and involvement in the community drew us in.
As we are getting into our 40's it was becoming obvious that our health needed to be bumped to the top of our daily schedule.. Work and other activities were the priorities in our lives. To keep up with what what we want and need to do we realized we needed to take care of ourselves first, especially if our goal is to be active and healthy long-term. It's learning you have to put yourself first before you can take care of the rest of your life the way you want. Plus, setting an example for our kids about health and priorities is important to us.
3. What has changed (attitude, energy, weight, habits, priorities, race times, blood work, confidence,
etc.)?
The morning crew at The Warehouse is the best! Even if the rest of the day doesn't go as planned, we know we started the day with the best of intentions with the support of some amazing people. With our work schedules and kids activities our time together is very limited! This gives us a chance to get out and do something together, even it it's 5:00 in the morning! Going together has definitely been key to making fitness a commitment. We have both stepped out in trying different classes and love that we don't feel judged for not being perfect in any of them.
For Kandi putting on boxing gloves is still awkward, and Ben trying Yoga Sculpt is out of his comfort zone. We both laugh through Jeanine's class and just avoid the mirror! We leave each time feeling a little more confident which seems to carry out into our day with us. We tend be a little competitive with each other which pushes us in class too. 🙂
We find when we exercise we eat healthier– who wants to work that hard that early and then throw it away with bad food choices?! Regular exercise gives us the energy and confidence we need to give our best to the rest of our lives from our jobs to our family. Health is a gift given to us and we feel that we need to take an active role in being responsible for.
Thank you to The Warehouse for giving us the awesome support and all you do for us and our community!
You are a huge part in helping us put our best foot forward everyday.